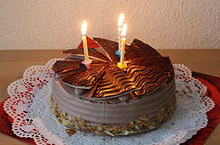 A birthday cake is a cake eaten as part of a birthday celebration in many world traditions. Variations of the typical birthday cake include birthday cupcakes, cake pops, pastries, and tarts. While there is not a universal standard regarding taste, birthday cakes are often vanilla-, chocolate-, or strawberry-flavored. They are also baked in a variety of shapes and decorated in one color or multiple colors with icing or fondant.
Ad blocker interference detected!
Wikia is a free-to-use site that makes money from advertising. We have a modified experience for viewers using ad blockers

Wikia is not accessible if you've made further modifications. Remove the custom ad blocker rule(s) and the page will load as expected.