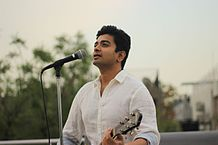 Singing is the act of producing musical sounds with the voice and augments regular speech by the use of sustained tonality, rhythm, and a variety of vocal techniques. A person who sings is called a singer or vocalist. Singers perform music (arias, recitatives, songs, etc.) that can be sung with or without accompaniment by musical instruments. Singing is often done in an ensemble of musicians, such as a choir of singers or a band of instrumentalists. Singers may perform as soloists, or accompanied by anything from a single instrument (as in art song or some jazz styles) up to a symphony orchestra or big band. Different singing styles include art music such as opera and Chinese opera, religious music styles such as gospel, traditional music styles, world music, jazz, blues, and popular music styles such as pop and rock.
Ad blocker interference detected!
Wikia is a free-to-use site that makes money from advertising. We have a modified experience for viewers using ad blockers

Wikia is not accessible if you've made further modifications. Remove the custom ad blocker rule(s) and the page will load as expected.