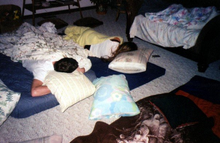 A sleepover, also known as a pajama party or a slumber party, is a party most commonly held by children or teenagers, where a guest or guests are invited to stay overnight at the home of a friend, sometimes to celebrate birthdays or other special events. A lock-in is a similar event held in a setting other than a private home, such as a school or church. The sleepover is often called a "rite of passage" as a young child, or a teenager, begins to assert independence and to develop social connections outside the immediate family.
Beginning in the 1990s, commentators wrote about a perceived new trend of parents allowing co-ed sleepovers for teenagers, with both boys and girls staying overnight together. While some writers decried the trend, others defended it as a safer alternative to teenage dating outside the house.
Ad blocker interference detected!
Wikia is a free-to-use site that makes money from advertising. We have a modified experience for viewers using ad blockers

Wikia is not accessible if you've made further modifications. Remove the custom ad blocker rule(s) and the page will load as expected.